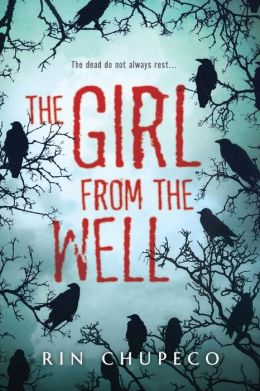 The Girl from the Well, by Rin Chupeco
Genre: Teen Horror / Suspense
Reason for Reading: This book was provided by the publisher, Sourcebooks Fire, through Netgalley in exchange for an honest review.
Summary:
Tarquin (Tark) Halloway has been haunted his entire life. With a mentally ill mother and a caring father who works too much, he feels he has no one to talk to about the strange lady that slinks through mirrors and makes Tark do terrible things. But when he meets a roaming spirit, Okiku, they both begin to remember what it is to be human. With the help from Tark's cousin Callie, Okiku and Tark must rid himself of his haunting.
My Thoughts: Let me tell you, if I had read this book when I was 14, I would have been sleeping with the lights on for weeks. The spookiness / imagery is reminiscent of Japanese horror films that The Grudge (Ju-On: The Grudge) and The Ring (Ringu) were based on. (Have you seen the originals? Not the American remakes. Watch the real thing. Darn spooky! That's what The Girl From the Well is like.) Same evil-ghost-child-with-long-creepy-hair-staring-at-you-in-crazy-fast-did-that-actually-just-happen-flashes feel to it.
Part of Rin Chupeco's spooky genius is her narration style. The story is narrated from the POV of the ghost, Okiku. Often, it reads like a 3rd person omniscient narrative, because Okiku mostly observes rather than acting. I often forgot I was reading a first person POV, and then suddenly Okiku would say something in the first person, and it was like she had just appeared out of nowhere. Like a ghost. Spooky. And then, sometimes Okiku would describe herself in the third person - a description of a ghost as Callie or Tark would have seen. This gave Okiku's character a sense of otherness. She felt inhuman. Ineffable.
Overall, I think this was an fantastic book, and I look forward to reading more of Chupeco's works. I miss the old days when ghosts were ghosts and monsters were monsters. I applaud Chupeco's work as one more for the #reclaimhorror team. (Ok, I just made that hashtag up, so technically she's the first on the team. But it's all good.)
Rin Chupeco:
Despite uncanny resemblances to Japanese revenants, Rin Chupeco has always maintained her sense of humor. Raised in Manila, Philippines, she keeps four pets: a dog, two birds, and a husband. She's been a technical writer and travel blogger, but now makes things up for a living.
The Girl from the Well
is her debut novel. Connect with Rin at
www.rinchupeco.com
.